Why Choose Us?
Over 28 Years Of Wire Expertise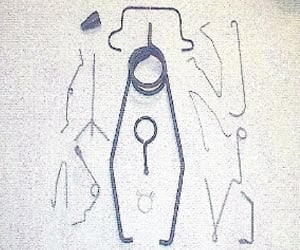 Regal Springs Company is a Columbus, OH based wire products manufacturer with over 28 years providing high quality custom wire products to commercial and industrial customers across the United States. Locally owned and operated, we specialize in the design and fabrication of custom industrial paint racks and hooks for powder paint coat and e-coat operations.
Your Success Is Our Success
At Regal Springs Company, we aren't just your average
wire products manufacturer. We have in-depth knowledge of paint coating line operations and can ensure that all paint racks and hooks will improve your productivity, efficiency, and save you time and labor. After all, your success is our success! We know that if our wire products don't help optimize your finishing line, then we haven't done our job!
Come To The Best In Wire
When you need custom wire forms, springs, or paint coating racks and hooks, come to the best. Trust the wire specialists at Regal Springs Company for unbeatable customer service, excellent products and a lifetime of expertise. For a free estimate, we invite you to send us a picture of your part or desired wire form shape. Contact us today for the best in service and quality wire products!